A centre for reviews and information on electronic music ________
__________________ and related arts plus other activities. ________
__________ From minimal techno to glitch, _________________
___________________________ gabber to ebm, ______________
_________________________________industrial to electro. ___
THURSDAY, OCTOBER 18, 2007
Maschinenfest Report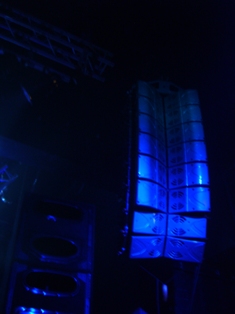 Almost everyone you spoke to at this year's 9th Maschinenfest agreed that the PA system seen here was one of the highlights. Powerful yet extremely clear, it gave most of the artists the chance to present their sound at its best.

Friday saw This Morn Omina's ambitious but not completely successful experiment with two live violinists and a flautist who introduced an unfortunate Jethro Tull touch to the sound. Twinkle began indifferently but produced a powerful and promising end to his set. Catholic Boys in Heavy Leather had suitably blasphemous and well-designed merchandise and a strong concept but were fairly unsubtle and one-dimensional in the flesh.

Saturday saw a definite change in pace and quality, opening with an intriguing atmospheric set by newcomer Ahnst Anders. 100 Blumen introduced a punchier more technoid sound to the evening but the momentum they built was dissipated by the Ordo Rosario Equilibrio, the definite "wild card" of the acts. Impressive orchestral and percussive elements seemed undermined by the over-literal lyrics and vocals which don't entirely convince in English.

Ypiy were different again - introducing smoother, more Kraftwerkian textures. They were followed by a strong Config. Sys set preceding the two main events of the evening; 5F-X's extra-terrestrial stage extravaganza and Sonar's raw brutalism. If you can tolerate watching two men in over the top alien costumes dance around to intricate but sometimes cheesy beats their show is definitely an interesting spectacle, but not necessarily more than that. Sonar "do what they say on the tin" delivering their trademark brutal beats with an extra element of live dynamism. By the end their effects units are being thrashed around in the air while they produce waves of harsh bass textures that produce a deservedly euphoric reaction from the crowd.

Those who could face getting to the venue at four on the afternoon
witnessed one of the weekend's highlights: a strong debut by Eva3 including a tribute to The Normal's Warm Leatherette and an unannounced guest appearance by Asche which made an already strong performance that much more memorable.

The next highlight was a dynamic set by the relatively unknown Dazzling Malicious, which at its best recalled The Mover's cold doomcore textures. This was swiftly followed by S.K.E.T.'s more filmic set and then an agitprop onslaught from Minsk's Ambassador 21. After this the night wound down with respectable but unexceptional sets by Vromb and Ah Cama-Sotz. A final release was provided by DJ's Shisha + 141 with a rabble-rousing Dutch gabba party in the merchandising area.

Kulturfabrik is a spacious venue with friendly staff and the Maschinenfest operation works very smoothly. Next year a four night extravaganza is planned. Anyone who's been toying with the idea of coming to Maschinenfest but not managed it should definitely make the effort, while not all performers are equally great it's still the leading festival for the scene represented by labels such as Hands and Ant-Zen.