A centre for reviews and information on electronic music ________
__________________ and related arts plus other activities. ________
__________ From minimal techno to glitch, _________________
___________________________ gabber to ebm, ______________
_________________________________industrial to electro. ___
FRIDAY, JULY 29, 2005
"Industrial by Other Means"
British Murder Boys – All the Saints Have Been Hung (Counterbalance CBX012)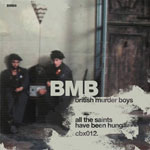 At some point in the mid-nineties it began to seem as if the minimal techno sound associated with labels such as Downwards was actually more "industrial" than a lot of what called itself industrial. While much industrial flirted with rock and diluted its concepts, the more austere variants of minimal techno continued the industrial tradition of cold, forceful, percussive electronics but in a (post)-dancefloor context. These "industrial values" were intensified by the relative facelessness of the producers. Moreover, some, such as Surgeon and Regis (a.k.a. British Murder Boys), openly acknowledged an industrial influence on their music and concepts. This is obvious not just in the sounds, but in details such as typography, design, and track titles.

The title track is full of drones, detail and texture, driven by strong bass and precise pounding drums. "Court of Conscience" and "Hate is Such a Strong Word" have overtly industrial atmospheres. "Court of Conscience" is a short track based around an ethnic sample and is reminiscent of industrial producers such as 23 Skidoo or Muslimgauze. "Hate is Such a Strong Word" is based around a sinister sample of the Rev. Jim Jones. In terms of atmosphere, the obvious comparison here is with "Voice of America" period Cabaret Voltaire - the use of this type of American political samples is deeply industrial. The final track, "Anti Inferno" is the most insistent and heavy-duty of the four, a blend of militant, regimented percussion and resolute (but danceable) bass. Once again, the Stakhanovites of the Birmingham techno scene have exceeded their production quotas, forging slabs of post-industrial techno that are now effectively "more industrial than industrial itself."

FRIDAY, JULY 15, 2005
Current and Rediscoverd Sounds
Nico - Saeta (Drama of Exile Anthology)

A rare and bitterly charming single.

V/A - Berlin Super 80

More raw unreleased and rare classics from "the decade noone was allowed to mention until they said it was cool again."

Loktibrada - Untitled Remixes (Veto)

A Bratislava versus Birmingham minimal techno special. Downwards label heroes Female, Regis and Ian J. Richardson remix Loktibrada (a.k.a. Toky). Less aggressive and more detailed than might be expected, full of metallic textures and strict percussion. Techno austerity with a (slightly) human face.

The Cure - Temptation (Studio Demo)

From the Pornography reissue bonus disc - The rediscovery and reproduction of the 1980s continues. What comes across on these unreleased and demo tracks are the relatively bleak keyboard and electronic sounds the Cure were producing at the time.